Disfruta la tradición de la aventura. Cuando alquiles una Toyota Land Cruiser obtendrás una sofisticada combinación de destrezas off-road, comodidad y refinamiento. Ni hablar de sus cinco puertas, asientos para ocho personas y asientos en la segunda fila plegables 40/20/40 para espacio de carga adicional
2
. Su interior es también una imagen de refinamiento, ofreciendo:
---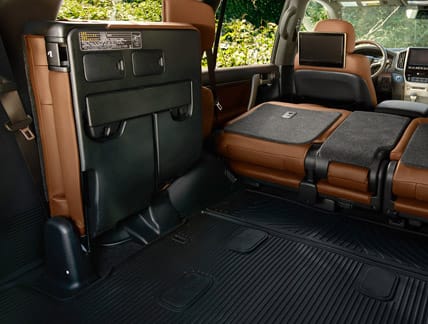 Un volante tapizado en piel que no sólo tiene calefacción, sino también controles para el sistema de audio, pantalla de información múltiple y teléfono manos libres vía Bluetooth®
Asientos delanteros tapizados en piel con calefacción gradual y ventilación. Los asientos de la segunda fila también cuentan con calefacción gradual, por lo que los pasajeros no pasan frío
Refrigerador en la consola central que puede acomodar fácilmente tanto bebidas como aperitivos
Sistema de entretenimiento DVD para los asientos traseros que cuenta con una pantalla a color de 9 pulgadas.
¿Qué más se puede esperar al alquilar una SUV de lujo? Seguridad. Éstas son sólo algunas de las medidas de la Land Cruiser:
El Star Safety System™, un conjunto de seis avanzadas medidas de seguridad
Sistema avanzado de bolsas de aire para el conductor y el acompañante, bolsas de aire laterales montadas en los asientos delanteros, bolsas de aire en los asientos de los extremos de la segunda fila, bolsas de aire para las rodillas del conductor y el acompañante, y bolsas de aire laterales tipo cortina con sensor de vuelcos (RSCA) e interruptor de desactivación.
Sistema Pre-Colisión (PCS)5 designed to detect other vehicles and obstacles in its path and help optimize how the front passenger seatbelts respond if a collision is imminent. If a collision cannot be avoided, the Brake Assist (BA)5 diseñado para detectar otros vehículos y obstáculos en el camino y ayudar a optimizar cómo responden los cinturones de seguridad del pasajero delantero en caso de una colisión. Si no es posible evadir una colisión, el sistema de Asistencia de Frenado (BA) se pone en modo de espera, muestra una advertencia y suena una alarma.
Para obtener información sobre cómo alquilar una Land Cruiser y saber si tienen disponibilidad, contacta tu
concesionario participante
más cercano.