Rent a compact car that's a perennial favorite. When you rent a Toyota Corolla, you're not only getting seating for five and plenty of room for all your gear – you're getting technology, innovation, comfort and safety features that really are among some of the best. In short, you're getting a Toyota – and all the features that make Corollas so great to drive, like:
---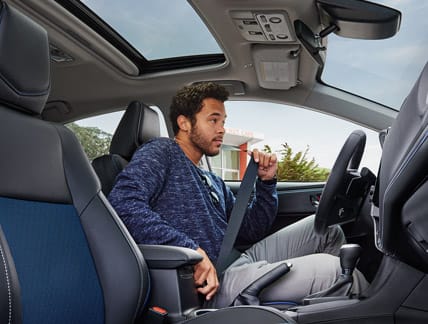 AM/FM CD player with MP3/WMA playback capability
Bluetooth® technology
Tilt/telescoping steering wheel for a custom fit
Easy-to-read instrumentation that's also super stylish
Cloth seats that are comfortable in any weather
Want a few more reasons to rent a Corolla? Try these on for size:
The Corolla has a clean design that's classically modern
It's less expensive to rent a compact car than a luxury vehicle, SUV or minivan
By renting a Corolla, you can get an extended test drive – and truly try before you buy
The Corolla offers seating for five and room to spare – including a full 12.3 cubic feet of cargo2 space for road trips
With 6 standard airbags, the STAR Safety System™ and active front headrests, the Corolla was built for safety
When you rent a Corolla, you're getting a compact car with plenty of pep. The lightweight engine produces a spirited 132 hp and 128 lb.-ft. of torque
To find out how to rent a Toyota Corolla, contact a
participating dealer
in your area and check their current availability.