With its city-friendly size and EPA-estimated 53 city mpg
1
, Prius
c
makes short work of long, busy streets.
Its smart size is perfect for prowling the urban landscape in style. What are some other great reasons to Rent a Toyota Prius
c
? This hybrid hatchback offers:
---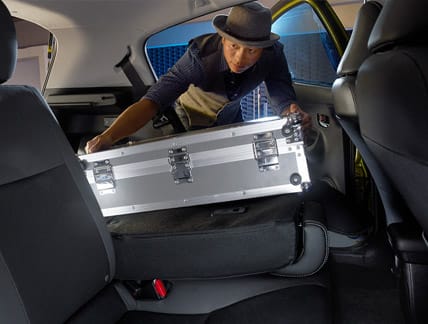 5-door flexibility that makes it easy to get into and out of Prius c. In addition to four doors that open wide, a large rear liftgate provides unencumbered access to the rear cargo area.
Energy monitor screen that indicates the operation of the engine and hybrid system in real time. Hybrid Synergy Drive®2 employs the most efficient source of power when possible.
ECO Savings, which allows drivers to measure their savings against a customizable comparison vehicle. The customizable data includes fuel cost per gallon and a miles per-gallon average.
Need more convincing? Consider all of the Prius c safety features:
Star Safety System,™ a suite of six active safety features designed to help you stay out of harm's way
Traction Control (TRAC), which helps maintain traction on wet, icy, loose or uneven surfaces by
applying brake force to the spinning wheel(s)
Brake Assist (BA)3, designed to detect sudden or "panic" braking and then add the brake pressure needed to help prevent a collision during emergency stops
For details on how to rent a Prius
c
, contact a
participating dealer
in your area and check their current availability.