Hit the road and rent a subcompact car that packs plenty of power and personality. The Toyota Yaris was not only designed to hug the road, but it's rated 37 mpg
1
highway by the EPA and offers plenty of room for your friends and family, as well as your gear. Whether you want to rent a Toyota Yaris for tooling around town, you're planning a weekend getaway or you want to extend your test drive and try it before you buy it, you'll love the Yaris' clean lines, roomy interiors and great features, like:
---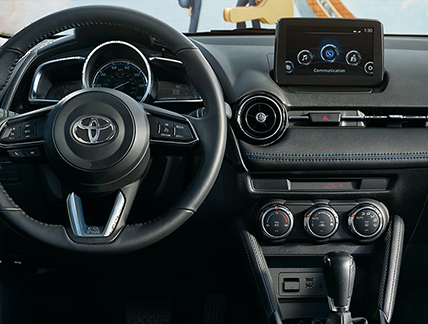 Seating for five
Steering wheel-mounted audio controls
Liftback door and wide cargo2 area
Bluetooth® technology
AM/FM/CD player with MP3 capabilities
Need even more reasons to rent a Yaris? Here are five:
Its sleek lines and stylish design are eye-catching (in a good way)
It's usually less expensive to rent a subcompact car than a luxury vehicle
The Yaris is nimble, quick and fun to drive
With 9 standard airbags and the STAR Safety System™, the Yaris doesn't skimp on safety
Because it's an ultra-low emission vehicle II (ULEV-II), when you rent a Yaris, you won't have to feel guilty about your carbon footprint
For details on how to rent a Toyota Yaris, contact a
participating dealer
in your area and check their current availability.